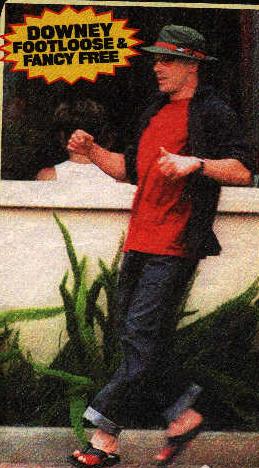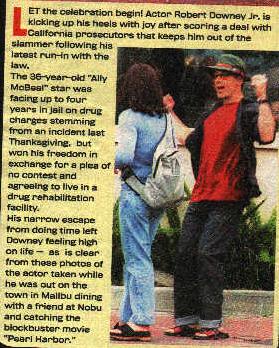 The text above says:

"Let the celebration begin! Actor Robert Downey Jr. is kicking up his heels with joy after scoring a deal with California prosecutors that keeps him out of the slammer following his latest run-in with the law.
The 36-year-old 'Ally McBeal' star was facing up to four years in jail on drug charges stemming from an incident last Thanksgiving, but won his freedom in exchanges for a plea of no contest and agreeing to live in a drug rehabilitation facility.
His narrow escape from doing time left Downey feeling high on life - as is clear from thes photos of the actor taken while he was out on the town in Malibu dining with a friend at Nobu and catching the blockbuster movie 'Pearl Harbor'."